Wealth Protection
TOTAL/PERMANENT DISABILITY INSURANCE
Total and permanent disability insurance or TPD as its commonly known provides financial protection to you your family, loved ones and their financial future by paying a lump sum in the event you become totally and permanently disabled. The insurer will pay a pre agreed lump sum in the event you were totally disabled.
In the event of a claim the lump sum can be used for such things as:
Paying off mortgage/loan
Modifications to the home
Ongoing medical expenses
Getting rid of debt
TRAUMA AND CRITICAL ILLNESS INSURANCE
Trauma insurance/critical illness insurance is designed to bridge the potential benefit gap between income protection, health insurance, and total and permanent disablement (TPD) and life insurance. It came into being as people were surviving previously life-threatening illnesses (such as cancer, heart attack and stroke), but as a result were being financially disadvantaged through being off work due to poor health or because of essential lifestyle changes.
BUSINESS INSURANCE
Business expense insurance is like income protection for your business. It enables your business to operate if you were temporality disabled and unable to work.
This policy is designed to protect physical assets, including buildings, stock, plant and machinery and other property. This coverage also encompasses business interruption insurance for the company i.e. the loss of its income-producing abilities. Policies contain industry-agreed and can be tailored to your specific business needs.Business expense insurance has been specifically designed for the self-employed person who wishes to ensure that the fixed expenses of the business or practice will still be paid even if he or she is unable to work due to injury or sickness. This insurance is intended to help keep your business or practice going while the life insured (usually you) is disabled. Business expenses insurance will pay a benefit up to a pre-agreed amount in order to help meet the cost of a range of nominated fixed expenses that would normally be paid for from the income you generate.
For example:
Rent
Business mortgage or loan repayments
Equipment leasing
Ideally, a business owner would have the business's net profit covered by disability insurance, any loans/debt covered by life insurance - possibly with some TPD cover - and the expenses covered by business expenses insurance.
Superannuation
Vital Financial Planning are superannuation professionals.
Now you get the benefit of our knowledge and experience with personalized service that helps you take control of your superannuation, ensuring it's working as an integral part of your financial future.
Vital Financial Planning services start with the right strategic advice, which we then back up with access to products that range from easy to manage and understand funds, through to fully featured super investment platforms with managed funds and share trading, as well as Self Managed Superannuation Funds. We can also assist with superannuation consolidation to help our clients save on fees and create a strategy for their financial future and retirement.
Self Managed Super Funds
A self managed superannuation fund, or SMSF, gives you control over your superannuation funds to invest in the manner you choose. There are rules as to where and in what you may invest your self managed super fund but these are practical and in your best interests.
A self managed super fund can borrow money to invest in residential or commercial property. There are rules that need to be followed for a self-managed superannuation fund to pursue the property loan path.
Financial Planning
Everyone's needs are different. That's why we provide financial advice that is tailored to you. You may face challenges along the way, but with a personal financial plan, you will be prepared. You will have a sense of control, and the peace of mind that it can bring.
Financial planning advice helps you plan and manage your money to work towards making your dreams and goals become a reality. Whatever your situation, there are 7 key building blocks (sometimes called 'strategies') that we can use, in combination, to help make the most of your money.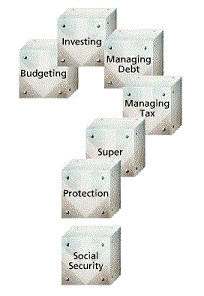 Retirement Planning
We all want to live a happy, healthy, purposeful life after full-time work but retirement means different things to different people. We all have different ideas of what the second half of our lives looks like.
That's why planning for retirement is so important. You want the comfort of knowing that your future is under control and that you can do all those things you have dreamed of for all those years.
How We Can Help You
Vital Financial Planning will work with you to develop a plan to make your retirement an enriching one.
We can help you:
Identify your goals - what are your plans for the second half of your life?
Prepare for the lifestyle change.
Review cash flow / income requirements.
Put plans in place to make your money last in retirement.
Maximize government benefits.
Review your health / house / care requirements.
Life Insurance
Life insurance provides financial protection by paying a lump sum directly to your beneficiaries in the event of death or diagnosis of a terminal illness. This is the reason this insurance is commonly known as life insurance. The benefit will be paid direct to your beneficiary or estate upon death by either sickness or injury. If you have a terminal illness with a life expectancy of less than 12 months it will be paid before your death.
A lot of people review their life insurance at different times of their lives such as;
Buying a house
Having children
Starting a new job
Starting a new business
Getting married
Key Person Insurance
People are your most important asset. Key person cover can help to ensure your business's financial position is not adversely affected should the worst happen.
The purpose of key person cover is to make sure that the business is not unduly financially affected by the unforeseen death or disability of a key person in the business. Usually a key person is essential to the performance and on-going profitability of the business and is an arm's length employee, director or contractor, who either:
Possesses proven knowledge and/or experience in a specified field of expertise;
Performs important tasks or processes; and/or
Have valuable personal and/or business contacts.
Income Protection Insurance
Income Protection insurance is probably the most essential type of insurance cover because your income determines your standard of living, your ability to build wealth and your capacity to provide for retirement. It provides you with an income should you become unable to work due to an injury or sickness. Benefits are paid monthly. The amount of cover is usually restricted to 75% of your gross salary. Premiums are tax deductible for most taxpayers and the income is assessable because it replaces lost Assessable income. The choice of cover depends entirely on your individual circumstances. Because of the number of choices, advice from your qualified Vital Financial Planning representatives is essential.
For example:
Benefit periods can vary from 2 years to age 65 or life for accident cover.
Waiting periods (the time before a claim is paid) can range from 14, 30 or 90 days to even longer.
Maximum benefit calculations for self-employed people can be complex.
Claims benefits can be escalated in line with inflation.
Estate Planning
We'd all like to leave a legacy and provide for those closest and dearest to us once we're gone. Estate planning is an effective method to take an overview of your assets, consider how they're structured and how you'd like them to be distributed after you die. It's just as important to provide for yourself as it is for the future.